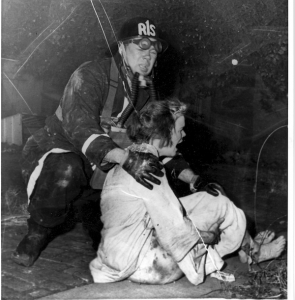 The Foundation
The D.C. Firefighters Burn Foundation is a non-profit 501 (c) (3) organization founded by active and retired Washington, D.C. Firefighters. Since 2004, the Foundation has been dedicated to assisting in the recovery and rehabilitation of injured firefighters and burn patients in the D.C. Metropolitan Area. We support burn research, treatment, and rehabilitation programs at Washington Hospital Center as well as the Children's Burn Camp Program. Firefighters and members of the Burn Center have a special empathy for burn survivors. No other group witnesses more of the devastation that fire wreaks on the human body and spirit.
As a non-profit organization, we rely on individuals, community organizations, and corporate sponsors for support and donations, large and small. Since 2004, we have provided well over $1.25 million in support to The Burn Center at MedStar Washington Hospital Center and Children's National Medical Center, along with many other essential programs for burn survivors from the Washington metropolitan area.
According to the American Burn Association there are there are one million burn injuries in the USA annually and an estimated 45,000 hospitalizations.  About half of those hospitalizations are admitted to the 125 specialized burn treatment centers and the other half to the nation's 5,000 hospitals.  It is estimated that one third of these injuries are children.
Our Mission
To prevent burns and improve the quality of life for burn survivors through programs, education and research.