The Family Services Team consists of Foundation Board Members, firefighters and burn survivors who provide assistance to firefighters, their families and departments following the aftermath of a line of duty burn injury.
Working closely with Washington Hospital Center Burn Center staff, the Family Services Team manages an immediate response system in which notification is made as soon as a firefighter is admitted to the burn unit. The firefighter is then assigned a team member who will serve as their communication liaison between medical staff, media and concerned family and friends. The Team also helps the family with basic necessities such as meals, toiletries, or special arrangements. Assistance and emotional support are vital for families when the unexpected happens, and no one understands the importance more than the DC Firefighters Burn Foundation.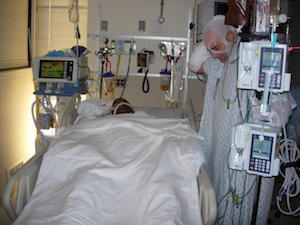 In September 2012, the Bladensburg Volunteer Fire Department and Rescue Squad presented $10,000 on behalf of firefighters Kevin O'Toole and Ethan Sorrell to the DC Firefighters Burn Foundation.
O'Toole and Sorrell were two of seven Prince George's Fire Department members injured in February. O'Toole spent eight weeks in the WHC Burn Center and Sorrell was admitted to the Burn Center for several days with respiratory and upper body burns.
"From the time they were brought to the Burn Unit at Medstar Washington Hospital Center, the DC Firefighters Burn Foundation were with them, their families and co-workers. They are wonderful and helped everyone through a very terrifying time in our lives."
– Fire Chief Randy Kuenzli,
Bladensburg Volunteer Fire Department
Firefighters O'Toole and Sorrell are doing well. Firefighter O'Toole is continuing rehabilitation and Firefighter Sorrell is employed as a firefighter in North Carolina.